IMMUWASH - Nasal Spray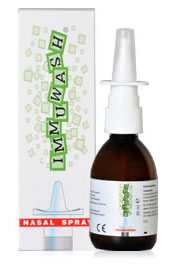 Indications:

Useful for prevention and reduction of possible post-surgery complications; for problems due to environmental stress (smog, cigarette smoke, etc.), foreign bodies (pollen, dust etc.) or temporary pathologies like sinusitis, adenoiditis, polyposis, rhinitis with or without microbic disease. Indicated for the treatment of Acute Otitis Media in synergy with antibiotics, to maintain nasal cavity deterged, promoting tubal ventilation.
[
« back
]
This material is intended to provide basic information.
All medical advice, diagnosis and treatment should be obtained from your physician.
Otolaringology »
Cue
•
Cue Cap
•
Emofix
•
Gastrotuss
•
Gastrotuss Light
•
Grip Stop
•
Immuwash
•
Immunotrofina Cough
•
Narivent
•
Rinogermina
•
Rinopanteina